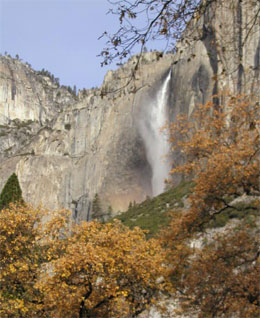 The wonderful Yosemite Valley is nearing its peak fall color, according to the park's website. Late October is generally the best time, depending on the weather.
It's also a great time to visit the park, as heavy snow hasn't set in but the bulk of the tourists are gone. That means hiking trails will be less crowded and some of the park's driving restrictions may be lifted.
It's not a spectacular place for fall color, as most of the trees are evergreens. Dogwoods, maples and oaks are around that will provide the fall feel. And hanging out by a crackling fire at the historic Awahnee Hotel is something to experience.